6. The Partnership of Man and Woman
The reproductive urge (desiring to have sex... as instinctive)
unfailingly brings men and women together for self- Perpetuation (the Guilt Trip),
but alone, does not insure their remaining together in mutual co-operation -
the founding of (a mindscape)... a home,
(a place that makes life worthwhile...
a surrounding that makes it all seem like nothing else in the world).
Every successful human institution embraces
antagonisms of personal interest
which have been adjusted to practical working harmony
and home making is no exception.
Marriage, the basis of home building,
is the highest manifestation of that antagonistic co-operation
which so often characterizes the contacts of nature and society.
The conflict is inevitable.
Mating is inherent; it is natural.
But marriage is not biologic; it is sociologic.
Passion insures that man and woman will come together,
but the weaker parental instinct and the social mores hold them together.
Male and female are, practically regarded,
two distinct varieties of the same species living in close and intimate association.
Their viewpoints and entire life reactions are essentially different;
they are wholly incapable of full and real comprehension of each other.
Complete understanding between the sexes is not attainable.

Women seem to have more intuition than men,
but then also appear to be somewhat less logical.
Woman, however, has always been the moral standard-bearer
and the spiritual leader of mankind.
The hand that rocks the cradle still fraternizes with destiny.
The differences of nature, reaction, viewpoint, and thinking between men and women,
far from occasioning concern,
should be regarded as highly beneficial to mankind,
both individually and collectively.
Many orders of universe creatures are created in dual phases of personality manifestation.
Among mortals, Material Sons, and midsoniters,
this difference is described as male and female;
among seraphim, cherubim, and Morontia Companions,
it has been denominated positive or aggressive and negative or retiring.
Such dual associations greatly multiply versatility and overcome inherent limitations,
even as do certain triune associations in the Paradise-Havona system.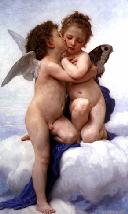 Men and women need each other in their morontial and spiritual as well as in their mortal careers.
The differences in viewpoint between male and female
persist even beyond the first life
and throughout the local and superuniverse ascensions.
And even in Havona,
the pilgrims who were once men and women
will still be aiding each other in the Paradise ascent.
Never, even in the Corps of the Finality,
will the creature metamorphose so far
as to obliterate the personality trends that humans call male and female;
always will these two basic variations of humankind
continue to intrigue, stimulate, encourage, and assist each other;
always will they be mutually dependent on co-operation
in the solution of perplexing universe problems
and in the overcoming of manifold cosmic difficulties.

While the sexes never can hope fully to understand each other,
they are effectively complementary,
and though co-operation is often more or less personally antagonistic,
it is capable of maintaining and reproducing society.
Marriage is an institution designed to compose sex differences,
meanwhile effecting the continuation of civilization and insuring the reproduction of the race.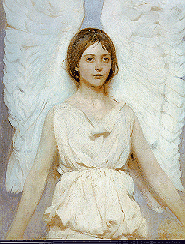 Marriage is the mother of all human institutions,
for it leads directly to home founding and home maintenance,
which is the structural basis of society.
The family is vitally linked to the mechanism of self-maintenance;
it is the sole hope of race perpetuation under the mores of civilization,
while at the same time it most effectively provides certain highly satisfactory forms of self-gratification,

The family is man's greatest purely human achievement,
combining as it does the evolution of the biologic relations of male and female
with the social relations of husband and wife.
Editor note: The comments in red above have been added for embelishment
per the creator of this web-site for inter-tainment purposes only.
You can find this page #938 in
Chapter 6. of Paper 83 - The Marriage Institution.
of The URANTIA Papers. (The URANTIA Book)

Email for more information!

---
© Images and text are copyright protected. ALL rights reserved and may be reproduced by written consent only.
©2001 by HighTouch. All rights remain in force.